Over the last year, our partner in India, Udayan Care, has welcomed five care leavers to their team as trainees, interns, and social workers. They have prioritised this to ensure their work, programmes, and support for young people and families are informed, guided, and led by people with lived experience of care.
This has been a significant learning for Udayan Care as they've listened to and worked with care leavers globally. They've also incorporated recommendations from the 4th Biennial International Conference (BICON) on Alternative Care for Children in Asia, which urged organisations to include the perspectives and expertise of people with lived experience within their work.
To mark the 2022 Care Leavers' Week, each young person shares about their roles at Udayan Care and the experiences growing up that have inspired them to work in the social care sector.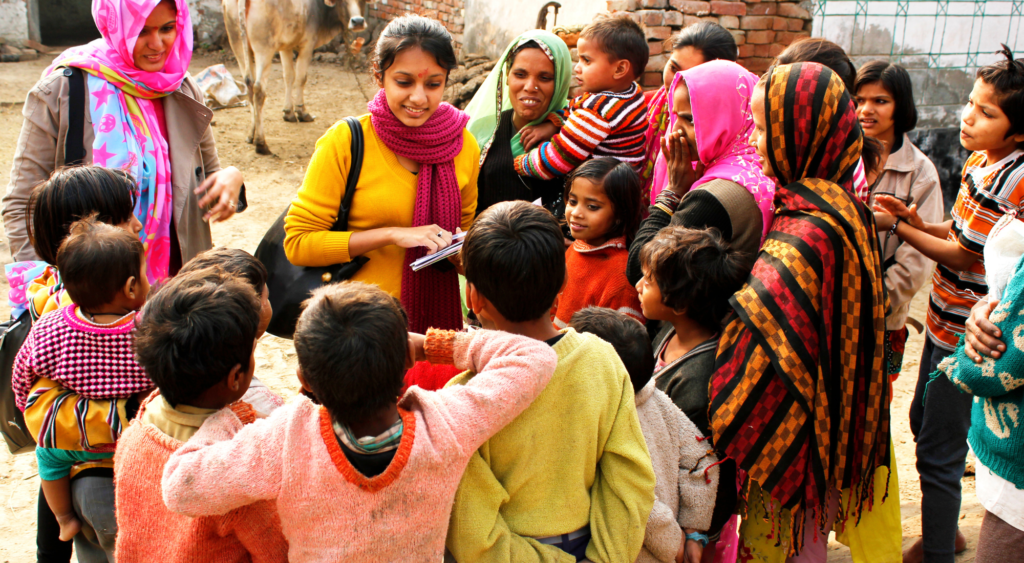 Raja, a young social worker, works in the community supporting family-strengthening initiatives to prevent children from being separated from their parents and family breakdown.
He grew up living in Child Care Institutions (CCI) and often witnessed random people helping children who had been separated from their families due to various circumstances. Raja developed a sense of empathy and a desire to help others experiencing similar situations. His current role is major a tick on his bucket list. The aspect of his work that he finds most challenging is observing the conditions many families face when they do not have a sufficient source of livelihood and depend on immediate intervention.
Due to growing up in a similar situation, he is able to connect well with the community members going through these hardships. As a social worker, he says, "More youth with lived experience of care must join the social workforce sector to address the disparities and vulnerabilities to work on solutions".
Sohail grew up in a CCI after being separated from his family due to an economic crisis. When the family was at their lowest point of dealing with the crisis, Sohail, still a young person, started thinking about ways to strengthen and support his family and started looking for a job in the social workforce.
He joined Udayan Care and works at the community level to strengthen families, ensuring children aren't unnecessarily separated from their parents as he was. In his role, he's encountered resistance from time to time from families to embrace change. With time, though, Sohail drew on his past experience to adapt his approach as a social worker to connect more with the families and deepen trust. As of today, whenever Sohail enrols children from the community in vocational training or courses, he thinks back to the time when he received the same kind of support. 
As a social worker, he strongly believes in the mantra, "Making one change in yourself will change the perception of the next youth to give back to society".
Surja entered a CCI at the age of 12  and felt she was supported to grow in confidence, language proficiency, and understanding of life. Even through ups and downs, Surja was grateful for the wonderful guidance and support of her mentor at the CCI. She followed her heart and faced challenges to become independent and work towards a secure future. During the time when Surja struggled with school admission, due to lack of documents and being labelled an orphan, she was supported by a journalist and her CCI mentors, which invoked a sense of supporting people who struggle to achieve their dreams due to lack of guidance or support. It also demonstrated the necessity for care experienced young people to have access to guidance and advocacy.
Recently, she's been selected as a LIFT (Learning in Fellowship Together) fellow, giving her a platform to advocate for the care experienced youth through her powerful writing skills. Her writing, in which she shares her experiences as a care leaver, has been published on many channels and is impacting change to strengthen the transition for children leaving care. She's also part of the Care Leavers Network and is planning to launch a network in the state of Uttar Pradesh, India to be empowered together with her fellow care experienced peers in the state.
Surja says, "Even with challenges, one must learn to voice out and tap in the concerned authorities and stakeholders who could help improve the situation of the care experienced youth". 
Pooja Vishnu entered a CCI at the young age of three and didn't leave until she was 18 with the support of Udayan Care's After Care Outreach Programme (AOP). With their help, she enrolled in a Graphic Design course and attended workshops on topics including money management and health and wellbeing. Following AOP's support, she sought an opportunity to give back to the community and soon joined the Global Care Leavers Community as a trainee, enabling her to connect with care leavers from around the world. Anxious about how things would unfold, Pooja learned a lot about her hidden capabilities and grew in self-confidence. She feels she's transformed from connecting with new people, forming bonds with care experienced youth, and developing her communication abilities, enabling her to share her thoughts and experiences more freely with the group.
As she steers advocacy initiatives and connects with her expanding network, she connects to her past experiences to guide her as she aims to create positive change.
As a budding social worker, Pooja says, "We are the stars of tomorrow. We have the power to empower tomorrow. We make a Living by what we get.  But we make a Life by what we give".
Mohsin entered the social workforce motivated to give back to society and implement change after growing up in care.
Today he is proud to be part of an organisation where he works with children in and transitioning out of alternative care and offers psychological support to youth. He prioritises raising awareness within families that need family strengthening through legal and social support.
Growing up in a CCI, he often felt alone, unheard, and left out of the community. As a social worker, he strives to create a safe space where the children he supports can honestly share their feelings and empower them to use their voices. As a care leaver, he can visualise a bright future for the young people he's supporting. Furthermore, as laws are amended and schemes and programs are improved, life for care leavers is slowly but steadily improving.
Mohsin shares that social work is very important, especially for the child who is growing up in an institution. "Every decision a social worker makes must be in the interest of the child because I think the future of every child largely depends on the ability of a social worker. Their efforts and decisions can make the child's life bright".