To celebrate International Women's Day, we are highlighting some of the remarkable women working in family-based alternative care for children that we are privileged to know, partner with, and learn from worldwide.
Bina Tamang is a passionate Reintegration Officer at The Himalayan Innovative Society (THIS), working in this role since 2019.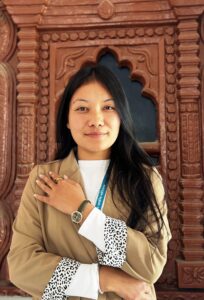 She works with 15 care-experienced children and their families who have been reunified under biological and kinship care in three remote districts, out of 77, in Nepal. Bina works hard to strengthen the bonds between care-experienced children and their parents to revive their connection and relationships after being apart for long periods.
She also has developed strong and productive relations with the local government authorities and connects families she visits with the government, which is the ultimate guardian of every family within the community. Her coordination visits help ensure that when the government introduces new social security supports, families with care-experienced children are their utmost priority.
Bina is inspired to continue this work mainly by the impact she sees in the children and families she works with. She recalls that during a transitional phase, when a young girl who was vulnerable was removed from an institution and was being reintegrated with her family, she shared how thankful she was for Bina.
"The child's love towards my amazing team and me, as we support children to be with their families, inspired me to work harder to bring back the children's connection with their parents. I believe we all need families at the end of the day," says Bina.
Visit HERE to learn more about our work with THIS.